Recently I need to translate a lot of text from Chinese to English (I found some awesome Chinese GitHub repo and want to translate).
My first thought was Google Translate. They have good API and second-to-none translation quality. However, imagining going through their setup, I refrained 🙂
So, in search of an opensource translation solution, I found LibreTranslate and was able to setup a docker API to power my translation. The quality of the basic text translation is good so far.
If you are in need of an opensource translation API, give this project a try.
Run LibreTranslate with Docker
Running LibreTranslate with Docker is quite simple. However, there are some caveats:
The API will not be available instantly because it needs to download the language models (you need to check the docker log to see this)
By default, the container will start downloading all language models (that's a lot and may take a long time). It's best you specified the models you want
So, as I only need the English-Chinese pair, here is the command I ran:
 docker run -dit -p 5000:5000 -e LT_FRONTEND_LANGUAGE_SOURCE=cn -e LT_FRONTEND_LANGUAGE_TARGET=en -e LT_LOAD_ONLY=en,zh libretranslate/libretranslate
As you can see, by setting LT_LOAD_ONLY to en and zh, the container only download two models:

Still, it takes around 5 minutes to download these two models. Imagine how long it takes to download all 56.
One side note, Chinese is zh, not cn :D.
The API is ready when you see the last line: Running on HTTP://0.0.0.0:5000
LibreTranslate API test run
Now you can send POST request to translate your text. Here, I tried to translate a Chinese message to English: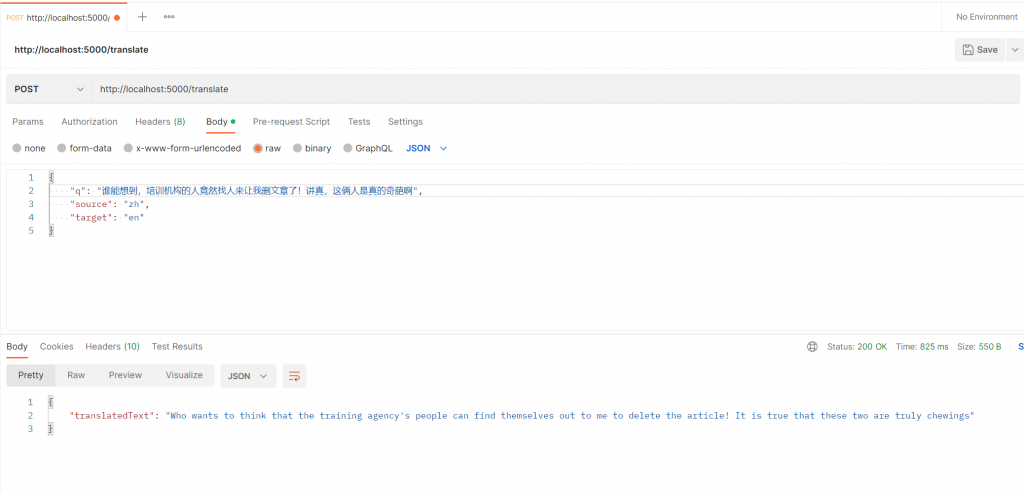 I don't know enough Chinese to judge the quality of this translation but the English text kind of make sense :v.
Conclusion
I'm very grateful for LibreTranslate. It's quite simple to set up a translation API for free. Give it a try! You can check out their project on Github here

I build softwares that solve problems. I also love writing/documenting things I learn/want to learn.